Dani Rozali Embraces Community-Focused Creative Practice with ReIssue's FreeSchool
The artist and Emily Carr University student was hired as an apprentice by ReIssue co-founders Brit Bachmann and Casey Wei via the Shumka Centre's Art Apprenticeship Network program.​
"When I first came into Emily Carr, my understanding of what 'curatorial practice' meant was very different from what I've just done,' Danielle 'Dani' Rozali says in a group video chat.
What Dani, an artist, curator and Emily Carr University student, has just done is work closely with Casey Wei and Brit Bachmann on their FreeSchool project — a free, ongoing series of online workshops for skill-sharing and community building among members of the West Coast arts community.
"I'm really glad I had this experience, because it got me away from thinking about curation as purely a white-cube gallery space activity. It has really encouraged me to look beyond the official gallery space and into what it means to be in a community, and what it means to curate for your community."
For Casey and Brit, this is something close to mission accomplished. The pair co-founded ReIssue, FreeSchool's parent publication, as an "interdisciplinary art writing platform focused on shaping and sustaining a contemporary West Coast discourse rooted in critical engagement with experimental art practices."
(Casey, an artist, filmmaker and musician, is also the Video Out Distribution + Outreach Manager at VIVO Media Arts Centre and ReIssue's editor. Brit, an artist and writer, is the Director of UNIT/PITT and is ReIssue's administrator. ReIssue is a partnership between UNIT/PITT and VIVO.)
From the beginning, ReIssue's mandate was partly aimed at filling a gap that emerges when local discourse is led by national arts publications.
"We wanted a platform that could cover what's actually happening here, and create community around art writing here again," Brit says. FreeSchool is the natural outgrowth of Casey and Brit's vision for contributing to that West Coast arts community — an opportunity to gather "just to talk, without any necessary purpose of actually solidifying it into texts, but just to talk about our interests, generate ideas, and share knowledge."
Having secured funding for FreeSchool via a Vancouver Foundation Systems Change Grant, Casey and Brit applied to the Arts Apprenticeship Network (AAN) to turn FreeSchool into a paid apprenticeship opportunity for an emerging practitioner seeking mentorship. Run by the Shumka Centre for Creative Entrepreneurship, the AAN was launched in 2020 to "create opportunities for paid work, social connection, and experience for emerging practitioners while providing hands-on support for cultural production."
When Dani saw ReIssue's call for applications, she was "really excited," and came into the interview "with a bunch of ideas for potential modules or workshops to design, just kind of really fired up."
Casey notes the feeling was mutual.
"From the get-go the vibe was really good," she says of Dani's interview. "I think we had trust in each other from the start. And in my experience, that's not always the case. But this was particularly a good one."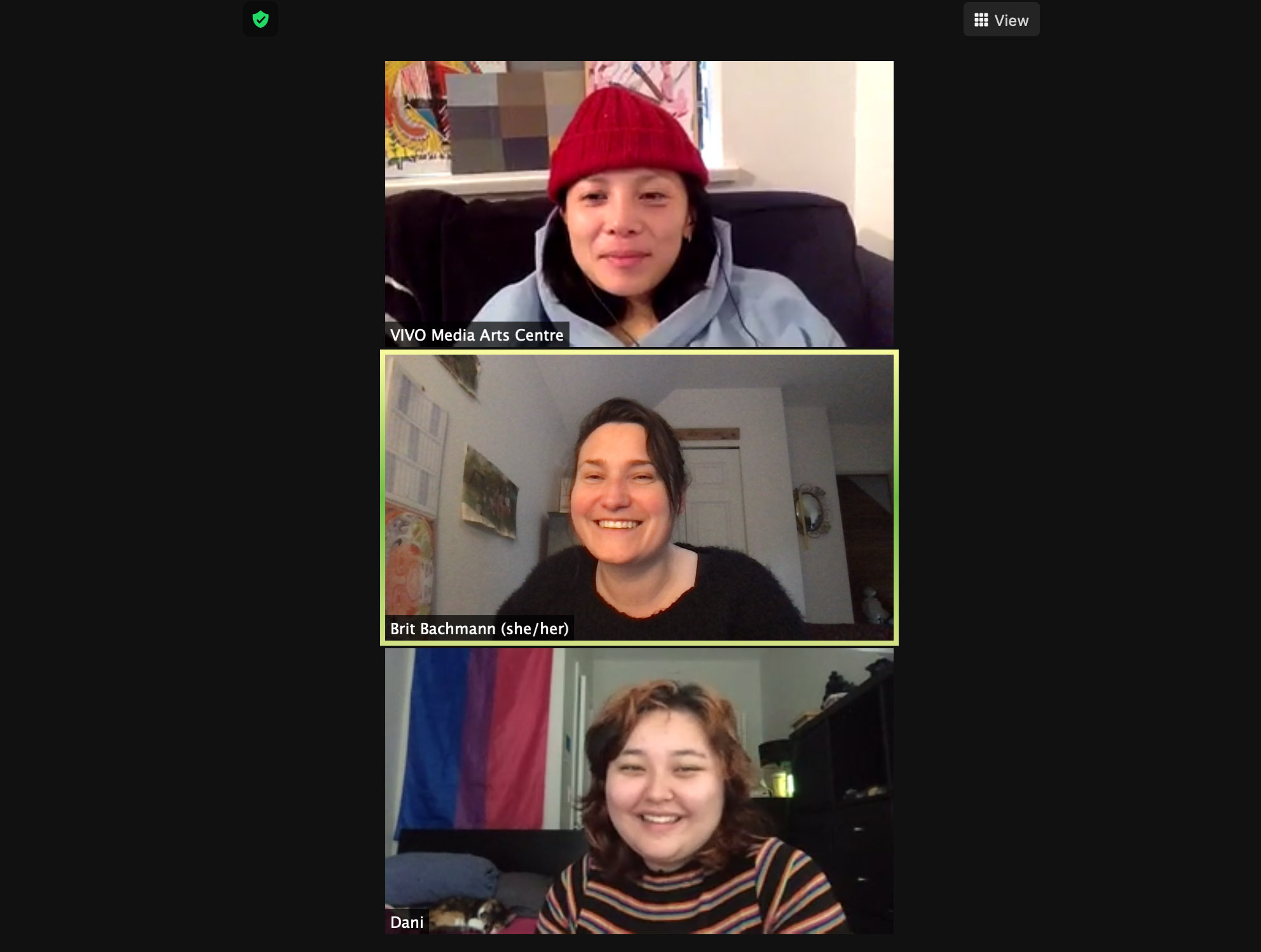 From top to bottom: Casey Wei, Brit Bachmann and Dani Rozali. Image courtesy Reissue.
Read the rest of the article on Emily Carr News